Neck pain is a common pain that can impair a patient's quality of life, neck pain can last for several days , knowing more about the components of the neck can help you care for and prevent neck pain.
The first seven vertebrae of the spine are the cervical spine, which is supported by muscles and ligaments in the back of the neck. The first vertebra is oval and the second is axial (for connecting the spine to the skull and the possibility of rotation of the neck) which differs from the other vertebrae from the third to the seventh cylindrical neck.
Neck pain
The vertebrae attach to each other by means of facet joints between two vertebrae. Cervical disk composed of a hard outer layer and a gelatinous inner nucleous. The discs are built for bending and flexing the spine. The ligaments attached to the vertebrae allow for greater stiffness and connected muscles to move the spine in different directions.
Among the vertebrae, the spinal cord along the vertebrae extends to convey messages to the brain. Spinal cord problems after back pain are the most common problems that people have to deal with. The most common problems are described below.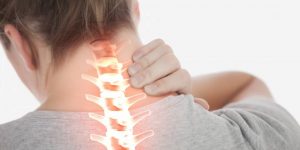 Neck Pains
Neck pain is one of the most common problems in adults and in occupations with seated positions. It is second cause of spinal pain after
Read more